Fiber Optic Accessories
We carry fiber optic interconnection accessories including pre-terminated variable optical attenuators, adaptors, fixed attenuators and splitters.
The adjustable optical attenuators are a single-mode unit suitable for network power equalization and signal reduction applications. They are factory terminated with your choice of standard connector, fully tested prior to delivery and can be used as a hybrid solution for older equipment where fixed attenuator styles are no longer available.
Splitters can be pre- terminated with your choice of connector.

Adaptors are available in a wide range of connector styles and sleeve types.

Fixed attenuators are available in values ranging from 1-20db.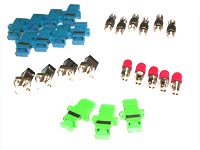 Accessories
Attenuators
Fixed

, 1-20dB. inline terminated with any connector style

Variable

, Single mode 1-10dB, with terminated 5 meter tail
Contact Litra for More Info